Pranab Mukherjee Chair for Sustainable Development, Reseach, Skill Advancement & Education
Introduction
With the declaration of 2005-2014 as the decade of education for Sustainable Development by United Nations, ICFAI University Sikkim has established a University level Chair, cutting across disciplines and schools, to develop and promote Education for Sustainable Development.
The main focus of the Chair is the promotion of research and education in the field of Sustainability Science. Being a paradigm shift of approach from awareness and understanding of general environmental education to involvement, participation and problem solving, the chair has undertake Action Research Project in different ecosystems of the State. Besides ecological and environmental dimensions, by looking into the economic, social and political dimensions, the overall objective of the chair is to improve the quality of life and life management.
The new Chair would give a new momentum to the national movement for Sustainable Development, in which large scale public interest has been generated, due to widespread environmental concerns at the local and global levels. It would also provide input in national and international policies on Sustainable Development.
Chair for Sustainable Development (CSD)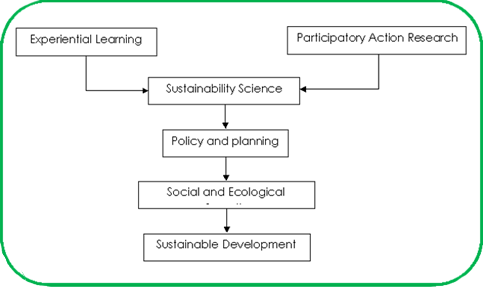 Promote higher education and institution building in public and private sector
Undertake Field Based Action Research Programmes in seven Major Ecosystems with a focus on pro-nature, pro-poor, pro-women and pro-employment under the theme of Sustainable Development.
Create Education and Training Material for Sustainable Development with reference to the above components based on field projects.
Capacity building in a new branch of science: Sustainability Science
Policy Studies for Sustainable Development for preparing National Policy on Sustainable Development as well as a revised Agenda 21 for India, taking into account the challenge of global warming and climate change.
Organize Public Education Programmes
Improve governance
Mitigate adverse effects of climate change, build collaborations and ensure environmental sustainability
Strengthen constitutional democracy
Promote innovation and entrepreneurship
Support research for economic and social development
Programmes
Action Research Project (ARP) in different ecosystems
Lecture series on Sustainable Development
Workshop
Publication of Newsletter (Quarterly)
Sustainable Development Lecture series
National Conclave on Youth Empowerment and Drug Abuse prevention for healthy Living & Ablaze 2019 organized by The ICFAI University in association with Pranab Mukherjee Foundation was successfully executed on March 30, 2019 at Gangtok, Sikkim
The national participants and guest speakers who participated in the national conclave are:
Dr. K. K. Paul
Former Governor and Chairman of Pranab Mukherjee Foundation Chair Sikkim, Delhi
Dr. Pervez Hayat,IPS
ADG BPRD, Delhi
Dr. Sudhakar Paul
Renowned Mental Educator
Mr. Maju Mathew
Technical Expert in Substance Use and HIV, UNODC, Delhi
Dr. Hina Sharma
Executive Director,
National Depression Centre, India Foundation, Delhi
Smt. Shashi Sharma
Bollywood actress, Mumbai
Mr. Surijit Sen
National Control Bureau, Kolkata
Mr. Ashish Mansharamani
Special Project,
Pranab Mukherjee Foundation, Delhi
Dr. Satish Rasaily
Addiction Medicine Specialist, Gangtok
Mr. Karma Chewang Nima
Freedom FACILTY Rehabilitation Centre, Gangtok