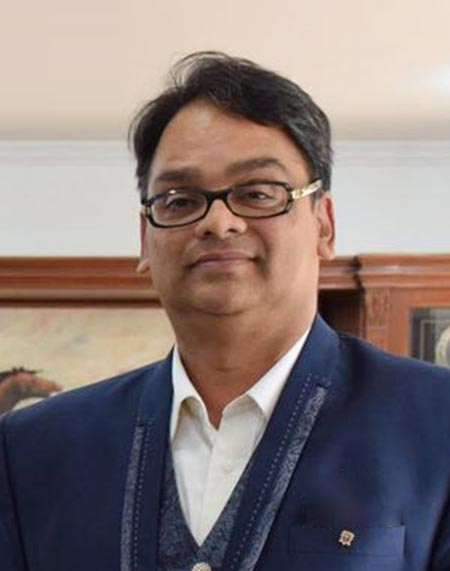 Message from Dr. Jagannath Patnaik, Vice Chancellor
Let me take this opportunity to present you all the Prospectus for the Year 2022 of The ICFAI University Sikkim. The ICFAI University Sikkim was established in the year 2004 and we offer world class career- oriented professional post graduate and undergraduate programs through inclusive technology. The University offers a wide range of programmes providing career options for professional qualification and growth in the fields of Tourism and Hospitality, Information Technology, Management and many more.
During the last few years the university has taken some remarkable steps by collaborating with research institutions and industry across the world. We are delighted to work in association with Pranab Mukherjee Foundation for setting up the "Pranab Mukherjee Chair" for sustainable development, research, skill advancement and education; Tribhuvan University Nepal for establishing the Madan Bhandari Chair for research and development; Al- Khalifa Business London to develop academic and educational cooperation.
It is a matter of great pride that we are ranked 9th among the top 10 Private Emerging Hotel Management Colleges in India, 9 th among the 10 Hotel Management Colleges with Best value for Money and 8 th among the 10 Hotel Management Colleges with Lowest Fees. Careers 360 Magazine has announced ICFAI Law School Sikkim as the best among the law colleges of Sikkim and has been ranked AA+ for 2 consecutive year i.e. for the year 2021 and 2022. The University is blessed with outstanding staff and students whose contributions are truly commendable in helping us achieving such great heights. It will always be the Universities attempt to be the best source of learning that focuses on empowering society we live in with competent and responsible professionals.
The University offers internship program to bridge the gap between the academic and corporate world which has always helped the students to get an exposure to technical skills. We at the ICFAI University Sikkim take utmost importance for placement of the students; guiding and counseling them on a regular basis. 80% of our students are placed in multinational banks, advertisement agencies, Human resource departments, tourism and hotel industry.
I welcome you to the University. Wishing you the best of luck and the bright of future ahead!
With best wishes,
Dr. Jagannath Patnaik View Profile
Read More